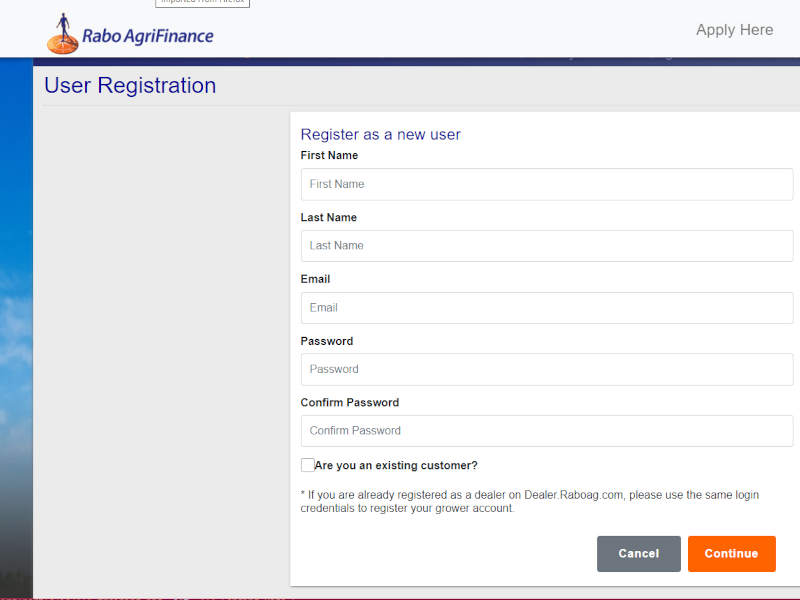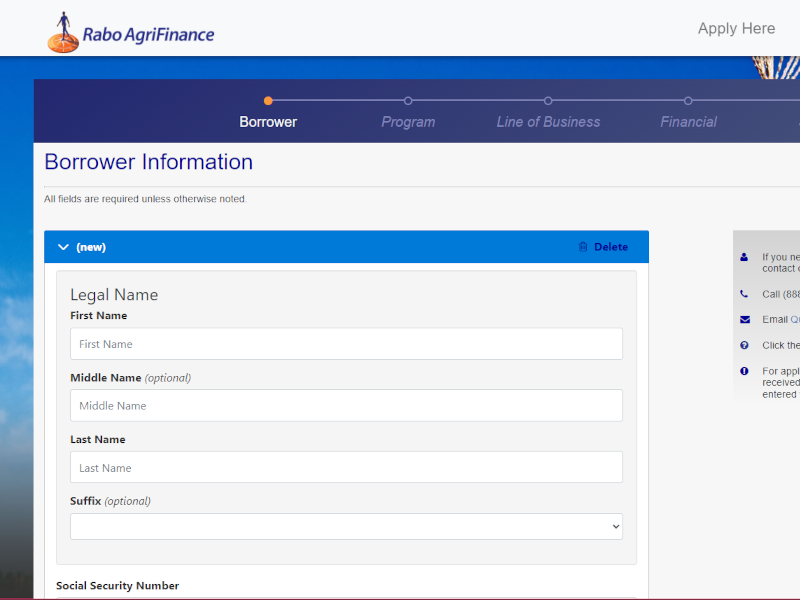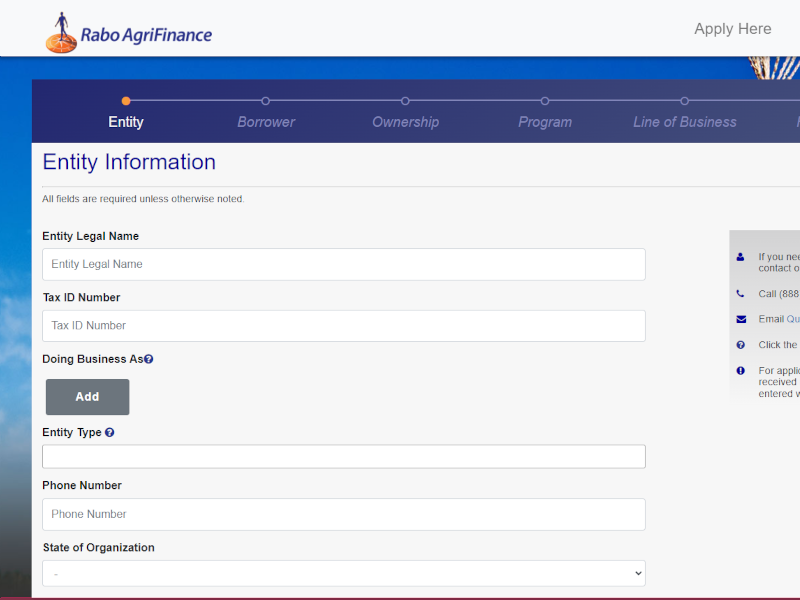 Project Date: 2017
Introduction: Rabo AgriFinance is a financial institution located in over 50 offices across the U.S. Because they're located in the rural towns, agricultural centers and farming regions where their clients live and work, they understand their operations, their sectors and their unique financial needs.
Background: Applying for credit meant farmers had to visit a physical branch to apply for credit, which was time-consuming and often required a lot of paperwork.
Scope: The scope of the project was to allow farmers to apply online, streamline the application process, reduce the time it takes to approve credit, and make credit more accessible to farmers.
Approach: To develop the application, the project needed to accomplish the following objectives:
Simplify the credit application process.
Reduce the time it takes to approve credit.
Increase access to credit.
Reduce paperwork for the bank.
Improve customer satisfaction.
Methodology: Rabo AgriFinance engaged a team of consultants comprised of business analysts, software developers, and a UX designer to develop an online credit application.
The first phase of the project consisted of conducting research to identify the pain points in the current credit application process. User interviews were also conducted to better understand the needs of farmers seeking credit.
The second phase of the project was to design a user-friendly interface that would guide farmers through the credit application process. The online application would need to provide farmers the ability to enter their personal and financial information, upload relevant documents, and track the status of their application. The application would also need features such as alerts to notify farmers of important deadlines and reminders to complete any missing information.
The third phase was usability testing. An interactive prototype built in Axure RP was tested with a small group of farmers to gather feedback and make improvements before developing the application and sharing with a wider audience for additional feedback.
The final phase was development of the online credit application using Angular.
Results: The online credit application was launched successfully on time and on budget and was well-received by farmers.
Rabo AgriFinance saw several benefits including:
Increased access to credit: By making credit more accessible, the bank was able to reach a wider audience of farmers who previously may have been discouraged by the lengthy application process.
Faster credit approval: The online credit application streamlined the credit approval process, reducing the time it took to approve credit.
Reduced paperwork: The online credit application eliminated the need for paper-based applications and reduced the amount of paperwork required by the bank.
Improved customer satisfaction: The user-friendly online credit application contributed to a high-level of customer satisfaction among farmers.
Conclusion: The online credit application was a successful project that achieved its objective to simplify the credit application process for farmers. The Rabo AgriFinance online credit application project demonstrated the benefits of leveraging technology to improve financial services and highlighted the importance of user-centered design in creating effective online experiences.